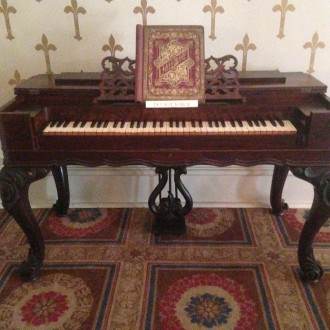 Our most recent donation by Mr. James Ridley, in honor of the memory of his mother Mrs. Peg Ridley and his late wife Mrs. Polly Ridley, is a beautiful rococo revival melodeon from the mid 1860s, a rather rare piece which is still able to be played. This "French antique" style was popular in Paris and London as early as the 1840s. The Maneys, always keeping their elegant front parlor at the height of style, would most certainly have had a melodeon such as this for entertaining their many guests.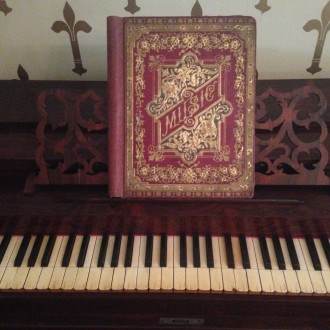 The inspiration for the design of this melodeon was the style of the court of Louis XV, its chief features being the cabriole leg, shell and other fanciful carvings, curved surfaces, and a profuse use of delicate S and C scrolls as an exaggeration of the previous rococo style. As this piece, made by the New Haven Melodeon Company, is done entirely from rosewood, featuring delicate ivory keys, the expense and care that went into creating this beautiful piece is quite evident. One can instantly imagine Lewis and Adaline's daughters playing light classical music or even perhaps a waltz for their prospective suitors.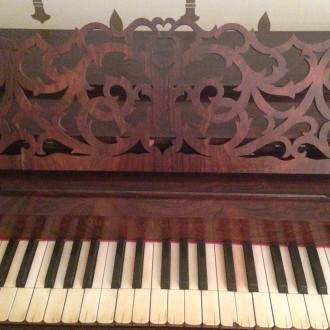 The melodeon is actually a small chamber organ which produces tones by forcing air supplied by the players pedal pumping against reed or metal blades and sounds very much like a miniaturized version of the much larger organs we find in churches today.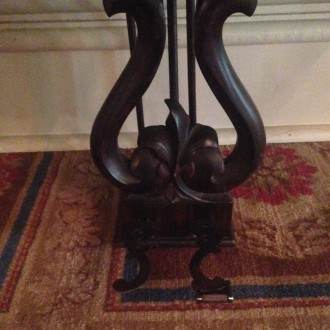 Oaklands is very grateful to the Mr. James Ridley for donating this exquisite and rare piece to our collection especially after it had been in his family for so many generations. It is sure to quickly become the jewel in our musical collection!