We are very fortunate that Mr. John C. Murphy decided to take advantage of our Adopt an Artifact program which enables Oaklands Museum to make important restoration projects within our collection possible. Mr. Murphy has chosen to adopt one of our Victorian game tables, which are beautiful to behold. The one adopted by Mr. Murphy is in the Empire style, however, it needs some rejuvenation and love.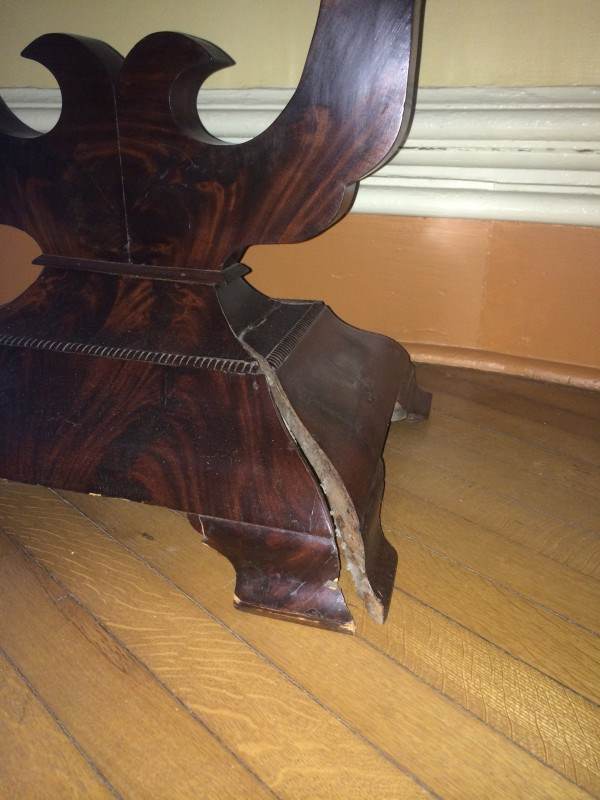 This particular game table is not only a functional side table when folded up, but it also provides useful storage with a hidden compartment beneath the table-top. By swiveling the top of the game table, you will find its "secret" storage compartment. This compartment is ideal for stashing away cards, dice, and other parlor game items and when it has been opened up to form a full table it can comfortably seat four. Being set on casters, it makes it easily movable from room to room and only takes seconds to be set up.


In the days before television and video games, entertainment was both simpler and more complicated. There were a lot of games that today's children might find more "educational" and "cerebral" than what they're used to. Games were easier to play, however, and required little or no specialized equipment.
There were many varieties of popular board games available in the 19th Century. Checkers and Chess were the most popular, as today. A game similar to Tic-Tac-Toe, called Nine Man's Morris, was also popular, as was Fox and Geese. Each of these games relies on "capturing" an opponent's pieces to win.
"The Mansion of Happiness" was "An Instructive Moral and Entertaining Amusement," where players moved their pieces about a board marked with "vices" and "virtues." Instructions at each landing spot either advanced the player further (virtues) or sent them backwards (vices) until they reached the "Mansion of Happiness" at the center of the board and won the game. We like to imagine that this was a popular game played here at Oaklands Mansion!
We are also very grateful to Mr. Murphy not only for adopting our game table, but also for his very generous donation to Oaklands Museum of our beautiful square center table also in the Empire style, honoring the memory of his mother Mrs. Angie Worley Murphy. This table's provenance is from an elegant house museum in Geneva, New York called Rose Hill. When Rose Hill chose to deaquisition and sell this piece they were told it was originally made in Philadelphia, Pennsylvania in 1835. It remained at his parents home, Fleetwood circa 1868-1881, in Trumansburg, New York first in the library and later in the living room as it could easily be moved to accommodate his mother's magnifying reader which allowed to to continue reading well after her eyesight began to fail.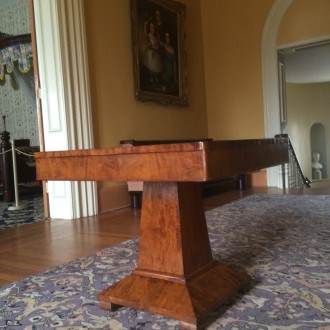 For more information about our Adopt An Artifact Program, or to have an artifact adoption form sent to you via email or regular mail please contact Connor Moss at (615) 893-0022 or connor@oaklandsmansion.org