An Artisan Affair is an annual, cancer charity based, makers market, hosted by NoBull Vintage.
An Artisan Affair 2015 will benefit the YMCA ABC (After Breast Cancer) Outreach Program & Wig Bank for it's second year. NoBull Vintage is the host of An Artisan Affair and is a local small business founded by a family that has been repeatedly devastated by cancer. Through their own family struggle, NoBull Vintage discovered a way to incorporate community, small business, and artisans, in their philanthropic journey. An Artisan Affair was born from the yearning desire to help others affected by cancer. This boutique style market is a gathering of wonderfully talented local farmers, artists, craftsmen, DIYers, entertainers, small businesses, and volunteers, coming together to share their talents and goods through an open air, festival type, market place. The 2015 event will take place at 900 N. Maney Ave. at Oaklands Historic House Museum in bustling downtown Murfreesboro, TN the weekend of June 12th & 13th 2015. Local businesses have partnered with NoBull Vintage to support An Artisan Affair. Here is where the public can be of tremendous support. Go online to www.AnArtisanAffair.org and purchase your ticket. We can't do it without you! Bring your friends & family members along with your trucks and trailers to haul away your new found treasures of architectural salvage, vintage, antique, and handmade furniture pieces, original art, local produce, soaps, trendy clothing, handmade jewelry, quilts, specialty paints, metal works, and more. Be sure to hang around for a family horse and carriage ride with Rockn' B Horse & Carriage. Grab a bite of delectable food from Savoy Catering featured on Food Networks Cut Throat Kitchen, and pull up a chair for some live music from artists such as Angela Easley and Hope Cassity NCMA vocalist of the year. Enjoy how to demonstrations from guest bloggers Dreaming-N-Color, The Scrap Shoppe, and Flamingo Toes. Visit our authors for a book signing of A Boy Back from Heaven and Hanging On for Dear Life and be sure not to miss our LIVE auction with Comas Montgomery Auction and Realty Company. It will be a day of fun for the whole family.
*Please note that though we do work closely with affiliates of the program to insure success, An Artisan Affair and NoBull Vintage are in no way partnered with the YMCA or the ABC Program and Wig Bank. This is simply our cancer charity of choice for the 2015 event. If you have a cancer charity that would like to be considered as a beneficiary for 2016 please email NoBullT@gmail.com.
An Artisan Affair will be a fun family atmosphere that will evoke the support of the community. The event will provide support and exposure for small business and local artisan vendors by allowing consumers to purchase goods directly from local farmers, artists, makers, and DIYers. The goods will include. Architectual salvage, antiques, vintage, painted, and custom built furniture, original art, handmade soaps & scrubs, local honey, jams, and produce, hand sewn and trendy clothing, purses, and quilts, jewelry, handmade home decor, custom lighting, metal craftsmen, welders, woodworkers, carpenters, and DIYers. The food is always delectable and the entertainment top notch. We strive to incorporate local business sponsors and community volunteers in to this event. Volunteering to work An Artisan Affair is always rewarding and a great way for anyone to give back. Those participating in the TN Promise and looking for volunteer hours should email NoBullT@gmail.com. There is always something for everyone.
The event is scheduled to take place on Friday and Saturday of June 12th and 13th 2015 RAIN or SHINE on the grounds of Oaklands Historic House Museum. Volunteers will be needed for set up on Thursday June 11th from 10am to 4 pm as well. Friday from 9am to 11am will be our early bird sneak peak event times, admission will be $10. During this time patrons will receive first glances at the unique one of a kind products carried by our hand selected vendors as well as prizes, deals, & discounts that are exclusive to early bird preview shoppers, including free re-admission anytime during the two day event. Friday from 11 am to 7pm doors are open to the public for a $5 admission to ages 12 and up. Saturday hours are 9am to 7pm admission is $5 to ages 12 and up. Pre-sale tickets are available online at www.AnArtisanAffair.org. Children under 12 are FREE and Parking is FREE.
*For more information follow them on Facebook www.facebook.com/AnArtisanAffair or visit their website www.AnArtisanAffair.org
Grab a bite of amazingly delectable food from Savoy Catering featured on
Food Networks Cut Throat Kitchen!
Artisan Affair will be offering amazing wares from many local artists and craftsmen!
Be sure to hang around for a family horse and carriage ride with
Rockin' B Horse & Carriage!
And SO MUCH MORE including tours of the historic mansion as well!!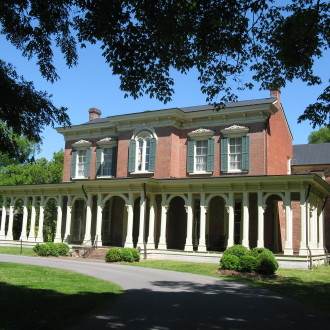 For ticket prices and tour times, please contact Oaklands Historic House Museum at
(615) 893-0022