Usher in the holiday season with an enchanting dinner date fit for the whole family with food trucks along the Candlelight Tour route this year. The annual Oaklands Christmas Candlelight Tour of Homes is slated for December 5, 2015, from 4:00 p.m. – 8:00 p.m. in Murfreesboro, Tennessee.  The tour, sponsored by Oaklands Association and presenting sponsor, Franklin Synergy Bank, will feature beautiful and historic private homes, distinctive churches, the graceful Oaklands Mansion and fabulous local foods.
Oaklands is excited to be partnering with such wonderful local favorites featuring innovative and mouthwatering meals from Gee Ma's Kitchen, Sweet T's BBQ, Demos' Restaurant and Julia's HomeStyle Bakery all of whom will be donating a portion of their profits to assist in our efforts of preservation and education for future generations.
Along the Candlelight Tour route Gee Ma's Kitchen and Sweet T's BBQ will offer family-style entrées, Demos' Restaurant with be serving up their locally famous baked chicken soup and award winning banana pudding, Peter D's will be offering their spicy chorizo corn chowder and keep an eye out for the big pink sweets truck for everybody's favorite cupcakes and cookies from Julia's HomeStyle Bakery. "Food trucks are a unique way for our guests to truly experience the taste, texture and flavor in the way the food is meant to be prepared," said Raina van Setter, Special Events Coordinator at Oaklands Mansion. "By incorporating local cuisine and favorite food trucks in our Candlelight Tour of Homes, we feel this really brings our community together.
Sweet and Savory stops along the holiday tour will be:
Gee Ma's Kitchen at Oaklands Mansion, 900 North Maney Avenue
Sweet T's BBQ Oaklands Baptist Church 530 North Maney Avenue
Demos' Restaurant Office, 503 North Maney Avenue
Julia's HomeStyle Bakery Central Christian Church, 404 East Main Street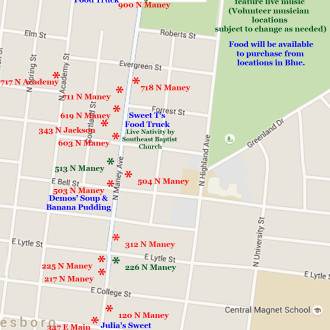 Eat, drink and be merry all along the nine block tour while listening to the joyful the music of carolers and touring the elegant historic homes all along the route. This will be an experience that the entire family can enjoy whether they are just out for an evening stroll or if they are actively participating in the Tour of Homes. While out walking, guests will also be treated to a live nativity provided by Southeast Baptist Church's Bethlehem Marketplace, which will be located outside Oaklands Baptist Church at 530 North Maney Avenue.
Today, local residents and visitors alike enjoy the mansion that has been lovingly restored and brought back to its former glory. The proceeds of the Candlelight Tour of Homes go toward the continuing preservation of this historic treasure.  Purchase advance tickets here on our website or or in the museum shop by 4 p.m. on Thursday, December 3 and receive a special price of $12.50 for adults.  Admission is $15.00 per adult at the door, $5.00 students and children, free for ages 5 and under.  On the night of the tour, tickets can be purchased at any home on the tour or at Oaklands' Museum Shop. Oaklands Association is a non-profit educational organization. For information on becoming a member or a volunteer, please call (615) 893-0022 or email: info@OaklandsMansion.org.