Back in July we had the pleasure of having the film PORTRAITS, the story of opera's divas Elizabeth Taylor Greenfield, Sissieretta Jones and Mary Landers filmed, in part, at Oaklands Mansion.
Elizabeth Taylor Greenfield, was born a slave in Natchez, Mississippi, but was adopted by a Quaker family in Philadelphia as a child. She studied music as a child although it was forbidden by the Quakers.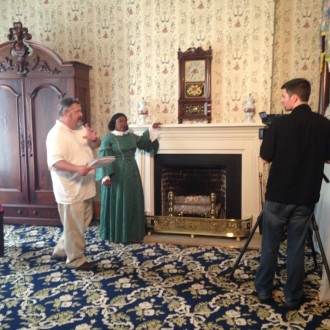 She began singing at private parties with her concert debut in 1851. In 1853, she debuted at Metropolitan Hall in New York which held an audience of four thousand, white patrons only. After the concert, Greenfield apologized to her own people for their exclusion from the performance and gave a concert to benefit the Home of Aged Colored Persons and the Colored Orphan Asylum.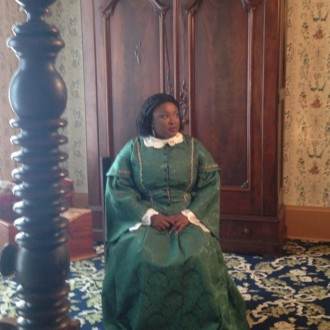 In April 1853, she went to London where a year later she gave a command performance for the Queen at Buckingham Palace. She was the first black performer to perform before royalty. Dubbed "The Black Swan", she was considered the best-known African-American concert artist of her time She was noted for her "remarkably sweet tones and wide vocal compass".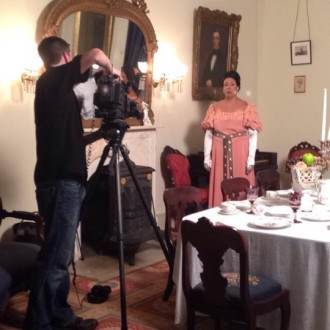 Sissieretta Jones, sometimes was called "The Black Patti" in reference to Italian opera singer Adelina Patti, was an amazing soprano whose repertoire included both grand and light opera as well as popular music.  
Born in Portsmouth, Virginia to African Methodist Episcopal minister Jeremiah Malachi Joyner and his wife Henrietta Beale. By 1876 her family moved to Providence, Rhode Island where she began singing at an early age in her father's Pond Street Baptist Church.
In 1883, Joyner began the formal study of music at the Providence Academy of Music which was soon followed by her acceptance at the New England Conservatory of Music. By 1887, she would be performing at Boston's Music Hall before an audience of 5,000.
Making her New York debut on April 5, 1888, at Steinway Hall she came to the attention of Adelina Patti's manager, who recommended that she tour the West Indies with the Fisk Jubilee Singers. This was soon followed by a performance  for President Benjamin Harrison at the White House. She eventually sang for four consecutive presidents — Harrison, Grover Cleveland, William McKinley, and Theodore Roosevelt as well as the British royal family.  By 1892 she would be performing New York's Madison Square Garden before an audience of 75,000. Her performance was so popular that she was invited to perform at the Pittsburgh Exposition in 1892 and the World's Columbian Exposition in Chicago in 1893.  She was also the first African-American to sing at the Carnegie Hall in New York which she then followed up with a world tour.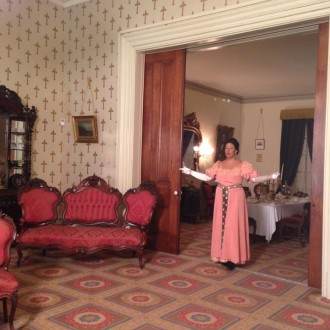 In 1896, Jones returned to Providence to care for her ailing mother only to find that most American classical concert halls were limited by racism. She formed the Black Patti Troubadours (later renamed the Black Patti Musical Comedy Company), a musical and acrobatic act made up of jugglers, comedians, dancers and chorus trained singers. The Indianapolis Freeman reviewed the "Black Patti Troubadours" with the following: "The rendition which she and the entire company give of this reportorial opera selection is said to be incomparably grand. Not only is the solo singing of the highest order, but the choruses are rendered with a spirit and musical finish which never fail to excite genuine enthusiasm."
Even though she was the highest paid African American performer of her time she was forced to sell most of her property to survive. Dedicating the end of her life to the church and caring for her dying mother, she died penniless on June 24, 1933. It wasn't until 2013 Sissieretta Jones would be inducted into the Rhode Island Music Hall of Fame.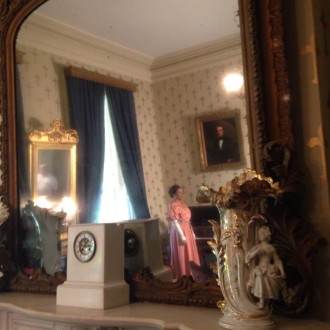 Look for PORTRAITS to debut on local Channel 3 this month around Rev. Martin Luther King day, followed by showings in February for Black History Month and in March as well for Women's History Month.