Oaklands Mansion, along with presenting sponsor First Bank, will host its sixth-annual Oktoberfest on Saturday, September 26th from 3:00 to 7:00pm. The growing list of brewers include Bearded Iris Brewing, Cedar Glade Brews, Cheap Ass Bastard Brewing, Dark Humor Brewing, Deep South Growlers, Emerald Abbey Brewing, Illuzion Meads, Mayday Brewery, Mid-State Brew Crew, Mid-State Brewsters, Mos Alesley Brewing, Rubidium Brewing Co., Smackdab Brewing and Spring Street Brew Garage.
The Knott Brothers band will take stage on the front porch of the mansion at 4:00. Sample German fare from FitzWillys, grab a gourmet hotdog from That's My Dawg or go south of the border with Catarina's. Silver Hill Medical Clinic will provide free water at their Hydration Station.
Sponsored in part by Gray CPA, PLLC., Holloway Accounting Services, The Humidor, Liquid Smoke, Melanie & Barry Shipp, Kelly & Charlie Baum, Claire & Austin Maxwell, Dr. James McCawley, DDS., Dixie & John Phillips, Redstone Federal Credit Union, John C. Murphy, Silver Hill Medical and Awnings Plus.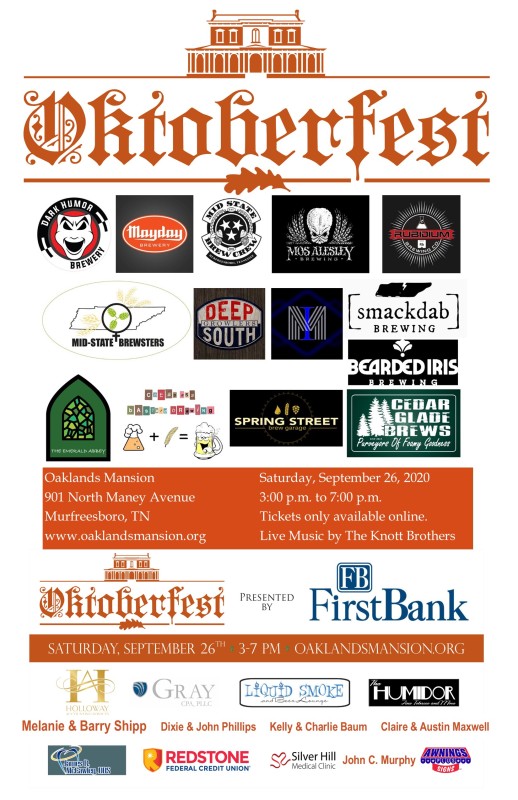 Oktoberfest is held outdoors on the grounds of Oaklands Mansion.  Guests are welcome to bring their own chairs or blankets. All tickets must be purchased in advance at oaklandsmansion.org. Brewers, food truck vendors and staff members are required to wear face masks.  Participants are encouraged to wear facemasks as well. Please follow all state, local and federal guidelines regarding COVID-19.
Admission for craft beer drinkers (ages 21 & up) $40
Admission for designated drivers (ages 17 & up) $20
Children and students ages 16 & under are free.
Limited tickets are available only at oaklandsmansion.org.